2024 Hyundai Elantra
The new 2024 Hyundai Elantra features significant improvements to its exterior design and interior styling and technology. Everything that has made the Elantra so popular over the years return in the redesigned 2024 model, but with even more impressive features.
What's new on the 2024 Hyundai Elantra?
The 2024 Hyundai Elantra showcases a dynamic transformation in its exterior and interior design.
Exterior
With revamped front and rear fascias, the vehicle now presents thinner LED daytime running lights that are elegantly bridged by a metallic bar. Emphasizing a modern touch, the Elantra introduces a two-piece grille adorned with a body-colored central element and a sleek, flat stainless steel emblem representing the Hyundai brand.
Further enhancing its rear aesthetic is a meticulously designed diffuser complemented by a broad U-shaped silver element. This year's model also brings forth newly sculpted front fenders, augmenting its aerodynamic prowess. The Elantra's wheel collection has been expanded, now offering contemporary alloy designs in sizes ranging from 15 to 18 inches.
A noteworthy feature on the 2024 Elantra is its C-pillar trim which encapsulates the brand's 'Parametric Dynamics' design theme, integrating geometrically distinct elegance. To offer customers more personalization, Hyundai has introduced a spectrum of color variants for the Elantra. These include the universally available Ecotronic Gray, the Ultimate Red available for Preferred, Luxury, N-Line, and N trims, and the vibrant Exotic Green exclusive to the N-Line.
Hyundai has artfully accentuated the Elantra's audacious exterior, aiming to provide a blend of geometric beauty and dynamic flair. This design philosophy culminates in a novel 'shark-nosed' character, endowing the Elantra with a wider, more assertive stance on the road.
The 2024 Hyundai Elantra N boasts a distinctive exterior that sets it apart from its counterparts. Its front is characterized by a meticulously designed grille and fascia, complemented by pronounced side sills that emphasize its sporty nature. Riding on 19-inch forged alloy wheels shod with high-performance Michelin Pilot Sport 4S tires, the Elantra N ensures a gripping road presence. The rear profile is accentuated by a dynamic wing spoiler and a redesigned fascia featuring an integrated diffuser. Adding to its performance aesthetic, the Elantra N is equipped with a robust dual exhaust system.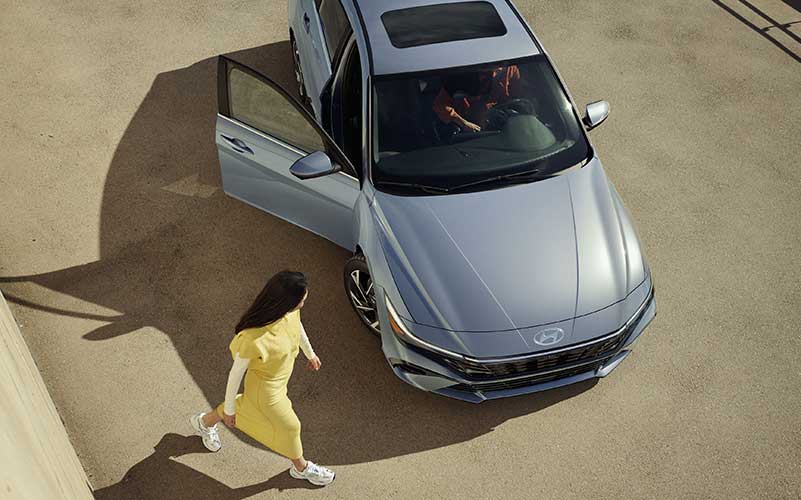 Interior
For 2024, the Hyundai Elantra showcases a refreshed and refined interior that focuses on enhancing comfort and usability. The front doors now feature soft-touch panels, providing an elevated tactile experience for the driver and front passenger. The array of interior color options has expanded, offering even more personalization opportunities. Luxury and N-Line trims benefit from the introduction of new leatherette seating surfaces, combining durability with sophistication. Essential and Preferred trims have been fitted with an updated 4.2-inch instrument cluster design for clearer information display. Tech-forward enhancements include the addition of two USB-C outlets in the rear and a dedicated USB-C outlet in the front, ensuring devices remain charged and connected. Additionally, the wireless charging pad has been redesigned for more efficient device charging.
The 2024 Elantra N sets itself apart with unique features that emphasize its sporty pedigree. The driver will appreciate a specialized steering wheel and shift knob, tailored for a performance feel. Both the instrument cluster and infotainment systems are bespoke to the N variant, offering an immersive driving experience. Taking center stage in the cabin are the N light sport bucket seats, which are not only ergonomically designed but also feature an illuminated logo, underscoring the car's high-performance DNA.
Digital Key
The 2024 Hyundai Elantra stands out in the technology arena, encompassing an array of advanced features that cater to modern drivers. A prominent inclusion is the Digital Key, offering compatibility with both iPhone and Android devices, streamlining vehicle access. The vehicle also incorporates the advanced Bluelink Connected Car technology, ensuring seamless connectivity and infotainment on the go.
The audio experience in the Elantra has been significantly enhanced. The car comes with six standard audio speakers. Those opting for the Luxury trim and above will be treated to the Bose Premium Audio system, boasting eight speakers, ensuring an immersive auditory journey. Further elevating the in-car entertainment quotient is the 10.25-inch infotainment system, which is now a standard feature on the Preferred trim equipped with the Tech Package.
Safety Features
Safety has also seen upgrades in the 2024 Elantra. New rear side airbags have been introduced and are standard across all trims, ensuring enhanced protection for passengers. There's also the thoughtful addition of a rear seat belt reminder, ensuring all passengers are securely buckled up. Moreover, the steering wheel now incorporates haptic feedback, enhancing the driver's experience and response with systems such as the Lane Keeping Assist, which is a standard feature. Advanced safety systems like Blind-Spot Collision-Warning and Rear Cross-Traffic Collision-Avoidance Assist, which now come with this haptic feedback, are standard on the Preferred trim and above.
New Versions
The 2024 Hyundai Elantra features significant exterior, interior and technological improvements. The models and versions, however, should be similar to the current Elantra lineup while the powertrain options return with slight improvements for 2024.
Powertrain
The 2024 Hyundai Elantra's powertrain lineup offers a diverse range of options tailored to both performance and efficiency. The selection encompasses a traditional 2.0L gasoline engine, a more spirited 2.0L turbo variant, a fuel-efficient 1.6L turbo engine, and an eco-friendly 1.6L hybrid electric (HEV) model.
Particularly notable is the 2.0L turbo engine, which has been specifically engineered for the Elantra N variant. This model's ride and handling have undergone significant enhancements to provide a heightened driving experience. Key modifications include a reinforced engine mount membrane, which elevates the car's agility and reduces after shakes. The G bushing has been fortified to enhance yaw response and steering precision. A transition from rubber to urethane in the rear suspension/ABS insulator on the rear support further elevates damping and yaw responsiveness. The ECS hardware has been upgraded to better control the body, and its software has been fine-tuned to harmonize with the hardware modifications. The steering gear box yoke specification has undergone a change to boost steering connectivity and accuracy. Additionally, alterations to the steering universal joint have decreased friction, leading to improved steering precision. The Motor Driven Power Steering software has also been optimized in light of these chassis and steering adjustments.
Frequently Asked Questions About the 2024 Hyundai Elantra
The 2024 Hyundai Elantra is now available for purchase.
The 2024 Hyundai Elantra boasts an array of trim options tailored to different preferences and budgets. The Essential trim starts with an MSRP of $21,999, offering features like a Smartstream 2.0L MPI 4-cylinder engine and an 8.0" touch-screen display compatible with Android Auto & Apple CarPlay. Following this, the Preferred trim is priced at an MSRP of $23,799, incorporating all the features of the Essential plus additional amenities like 16" alloy wheels and a heated leather steering wheel. The Luxury trim, with advanced features such as a 10.25" full digital display instrument cluster, comes in at an MSRP of $27,999. Finally, the top-tier N Line Ultimate trim has an MSRP of $31,099, providing the most comprehensive package of features and functionalities. The new 2024 Hyundai Elantra Hybrid starts at $30,499.